Toby Cedar
A proud Torres Strait Island man born in Dampier Western Australia in 1978.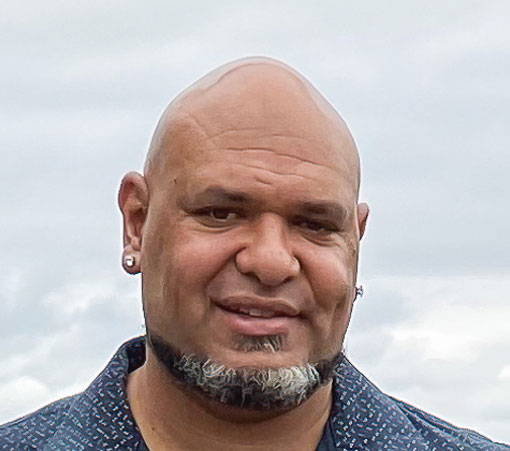 Toby Cedar
Toby Cedar is a proud Torres Strait Island man born in Dampier Western Australia in 1978. His bloodlines being from both Eastern and Western Islands of the Torres Strait. He comes from the Peiudu tribe Erub (Darnley Island) with his lubabat (totem) being Wada (frigate bird), Op Nor Beizam (Tiger shark), Deumer (Torres Strait pigeon) and wind identity – Koki (North West). And Samsep-Meriam tribe Mer (Murray Island) his lubabat are Korseimer (moth), Deumer (Torres Strait pigeon), Op Nor Beizam (tiger shark), Sap (driftwood) and wind identity – Sager (southeast) from his father's side.
N.O.D (Hinode /sunrise) Wug village (Senpol /St Pauls Community) Moa Island, his lubabat are kodal (crocodile),Dangal (dugong), and wind identity Goub from his mother's side. His parents moved to mainland Australia from the islands like many Torres Strait people for work on the railway which took them to Western Australia.
Toby though growing up in W.A was always surrounded by his Torres Strait culture with a large family and Torres Strait community around him. He was taught the importance of his culture by his elders who passed down to him traditional ways, practises like dancing and hunting and protocols.
Toby did his schooling in Port Hedland until receiving a football scholarship and moving to Perth to play Representative football for Western Reds and representing his state. After finishing school Toby followed in his father's footsteps and began his working life on the railway where he worked for the next ten years. Eventually his work took him to NSW where he met his wife and had his three sons and changed careers and went into underground coal mining.
In 2009 while still working in the mines he started his own business 'CDA Balas Designs' a small business which he worked part time designing and printing Torres Strait Islander design clothing and accessories.
From this he taught himself to use graphic design programmes and realised his love for design and art which led him to begin to make traditional Torres Strait Island Dari (headdress) after being taught the ways of making them from his elders. He had now found his true passion.
After spending over a decade in NSW, Toby and his wife made the decision to make the move to North Queensland not only so he could progress with his artwork and business but so that their children could learn more about their language and culture and be with more of their Torres Strait families.
Toby worked out of his workshop creating his art and also doing wide format sublimation printing, where he spent the next five years but has since moved back to NSW for other work and Art opportunities.
Toby's successful art journey so far includes him participating in his first art competition in 2011 in the Gosford Art Prize with both works he entered being selected as finalists and went on exhibition at the Gosford regional Gallery.
From there Toby has sold many of his works, some including to – private collectors, galleries, universities, the Australian Navy, National Gallery Of Victoria and has had three of his pieces acquired from the National Gallery of Australia for the National collection.
Since 2011 he has been involved in both solo and group exhibitions, in 2020 he was awarded the 3D Sculpture Award at CIAF Art Awards and in 2021 he has been selected as a finalist in the 2021 Telstra NATSIAA Awards.
Toby enjoys creating both traditional and contemporary works which are all heavily influenced by his Torres Strait culture, his totems, his Father's stories of childhood/early adulthood on the Islands – hunting, fishing, gardening, dance and family life with many of his pieces that are made to be used in dance.
Dance is very important in Torres Strait Culture, Toby dances regularly dancing traditional Eastern Island dances and also new dances which Toby with the help of his father and his Eastern Island family has choreographed and written words for.
Toby works with many materials but especially bamboo, coconut shell, feathers, pearl shell, resin and wood creating three dimensional Totemic animals crafted into headdresses, weaving and wood carvings.