Our Vision
In a world ravaged by crisis, our mission is to energise global Indigenous communities to amplify First Nations powerful, guiding voices through NFTs
By the Community for the Community
Because of the limited number of pieces within the Genesis Collection, we are offering early access to the Genesis Collection to those that have provided support for the WBW project during the past 12 months.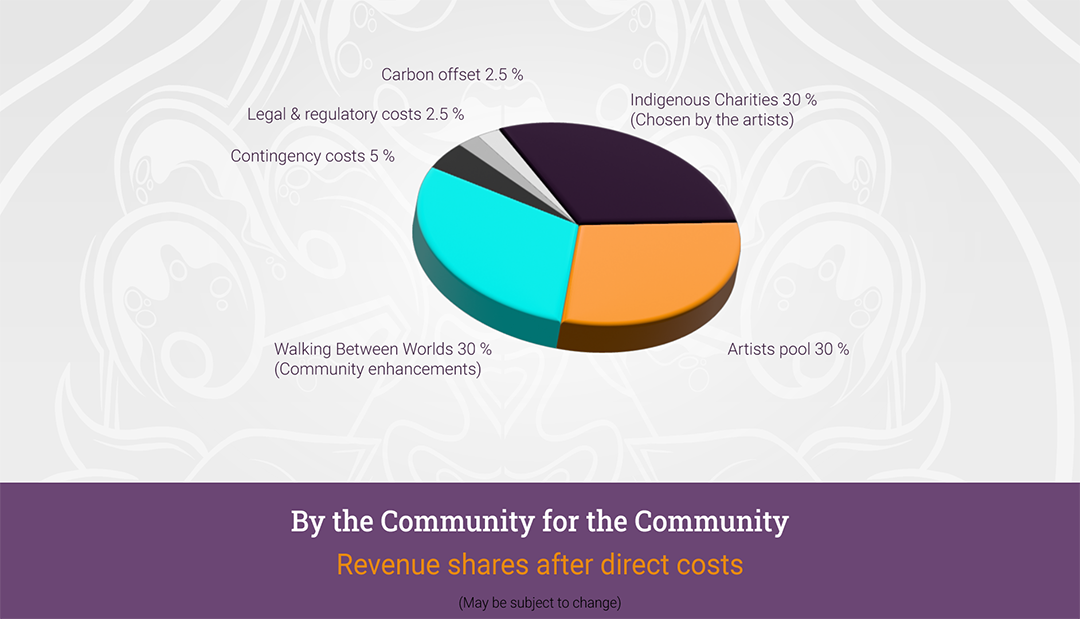 Community is in the very epicentre of Indigenous cultures, globally. To reflect the importance of community, we have developed a community-focused structure for all Collections. Funds generated from the Genesis Collection will be allocated in line with the allocations detailed in the diagram above*. Perhaps the most important feature is that the artists, who are creating the art for you to enjoy, are choosing the bona fide, and registered Indigenous charities, within their communities – to help those that are less fortunate . The objective is to ensure the funds are used to empower members of the community to capitalise on NFTs – for example, but not limited to, digital education.
*this may be subject to change
But this is just the very beginning of a much bigger picture…
Our Long-term Vision
"In a world ravaged by crisis, our mission is to energise global Indigenous communities to amplify First Nations powerful, guiding voices through NFTs"
For too long, Indigenous communities across the globe have been disenfranchised. The ever-accelerating speed of technologies only adds to the problem, creating an ever-widening digital divide between the traditional and western worlds. Without proactive support, Indigenous communities will fall even further behind.
Walking Between Worlds (WBW) is driven to energise global Indigenous communities to capitalise on the NFT market, now. By doing so, Indigenous communities across the globe can begin the long journey to greater empowerment and greater self-determination.
We are bringing leading thinkers from within global Indigenous communities together with global experts in the cryptocurrency, technology and digital art communities. Together, through community-based excellence, and supported by behavioural economics, our objective is to create an ecosystem to provide the foundations for global Indigenous communities to excel.
We are energising Indigenous community engagement through the creation of a best-in-class platform with four core pillars of empowerment:
A collaboration engine – to enable skills sharing between digital & traditional artists.
Online education to enhance digital skills
Curated, dedicated NFT Galleries strongly positioned in the growing Metaverse. to provide easy, but focused , access to high quality global Indigenous art and artefacts.
Providing easy access for art investors to support and engage with emerging Indigenous talent
The platform is being designed from the ground up to create an ecosystem and community of global supporters of Indigenous cultures that can enable the skill sharing and skills transfer necessary to make communities succeed. The platform and community will be powered through a community token that rewards appropriate behaviour that is focused on fulfilling our mission.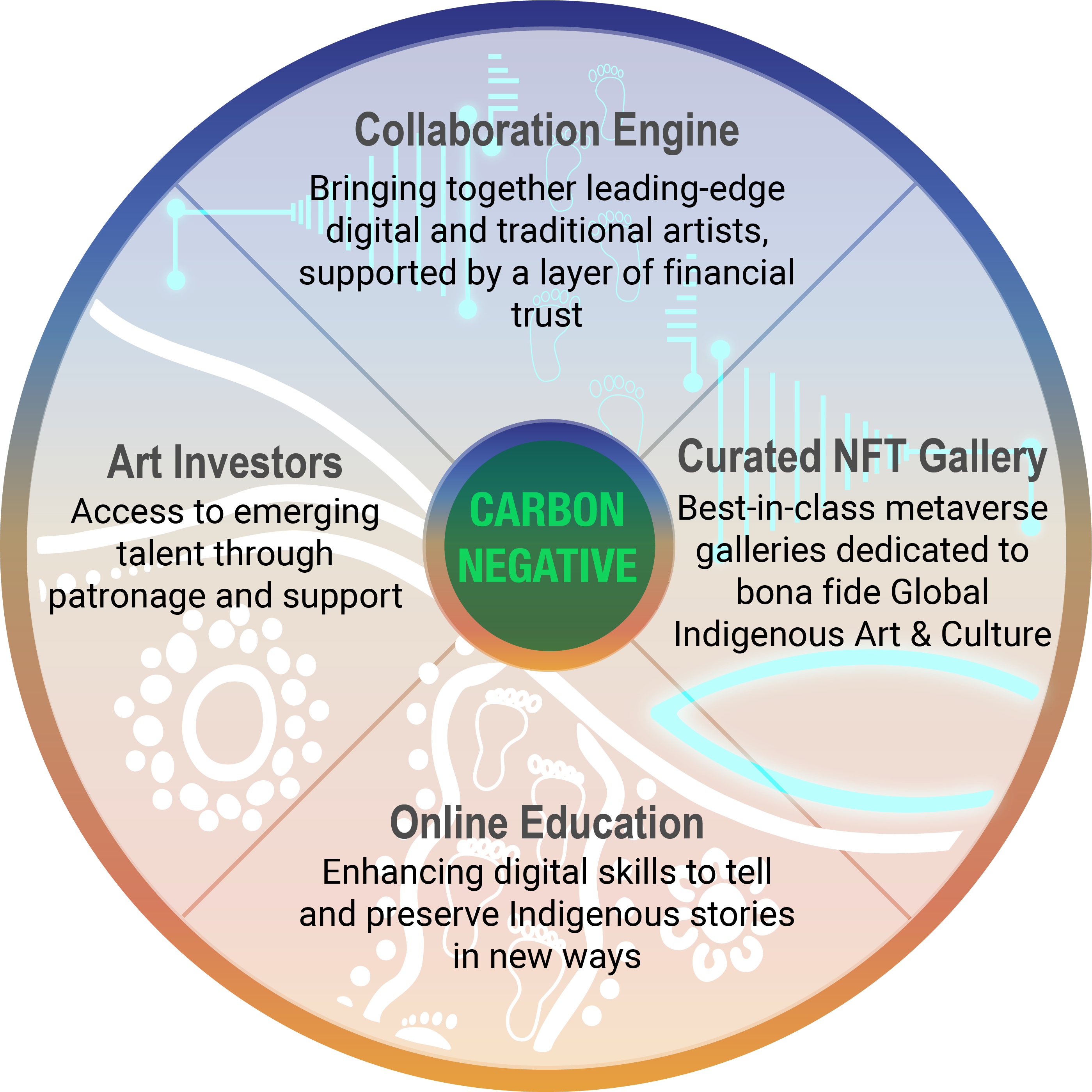 Our four pillars of Empowerment
The Walking Between Worlds Minimum Viable Product (MVP) will be based out of Australia, working closely with the Indigenous communities here, to create a "playbook" for global Indigenous communities to follow. We are very open and keen to working with others. So please do not hesitate to get in touch.
A whitepaper is currently being finalised for wholesale investors and Crypto-based funds in preparation for a 2-stage token raise targeted to complete in Q1 & Q2 2022, possibly sooner. See our full roadmap for more details